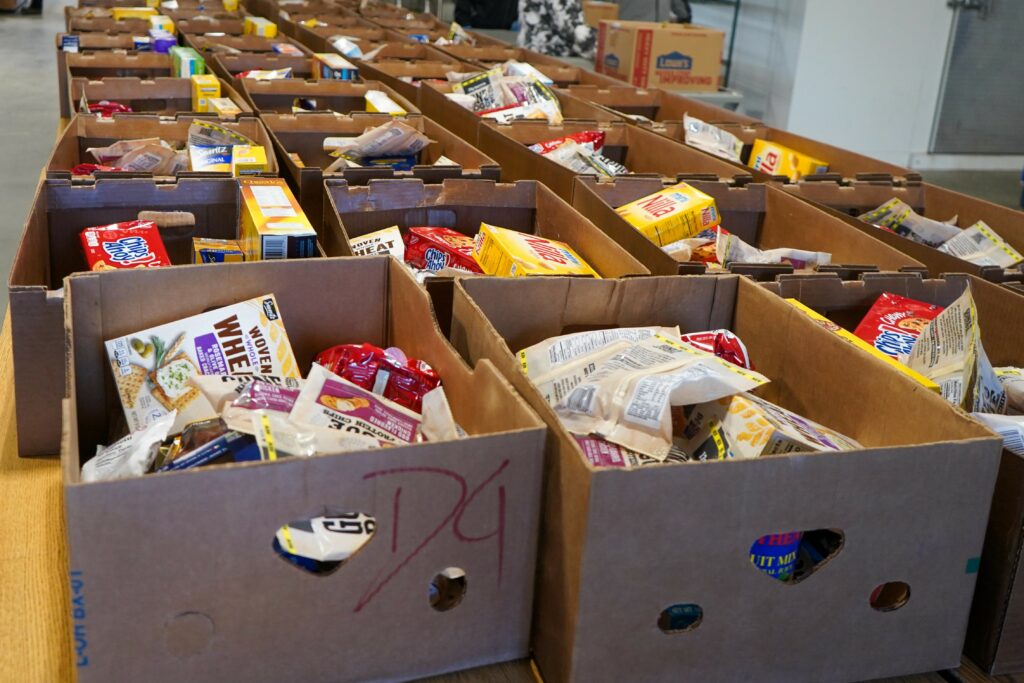 ---
DATES
The Augsburg Food Pantry distribution is held on the 3rd Saturday of every  month from 8AM to 2PM
VOLUNTEER OPPORTUNITIES
Food Box Preparation:
3rd Friday of every month.  Contact church for time.
Food Box Distribution:
3rd Saturday of every month from 8AM to 2PM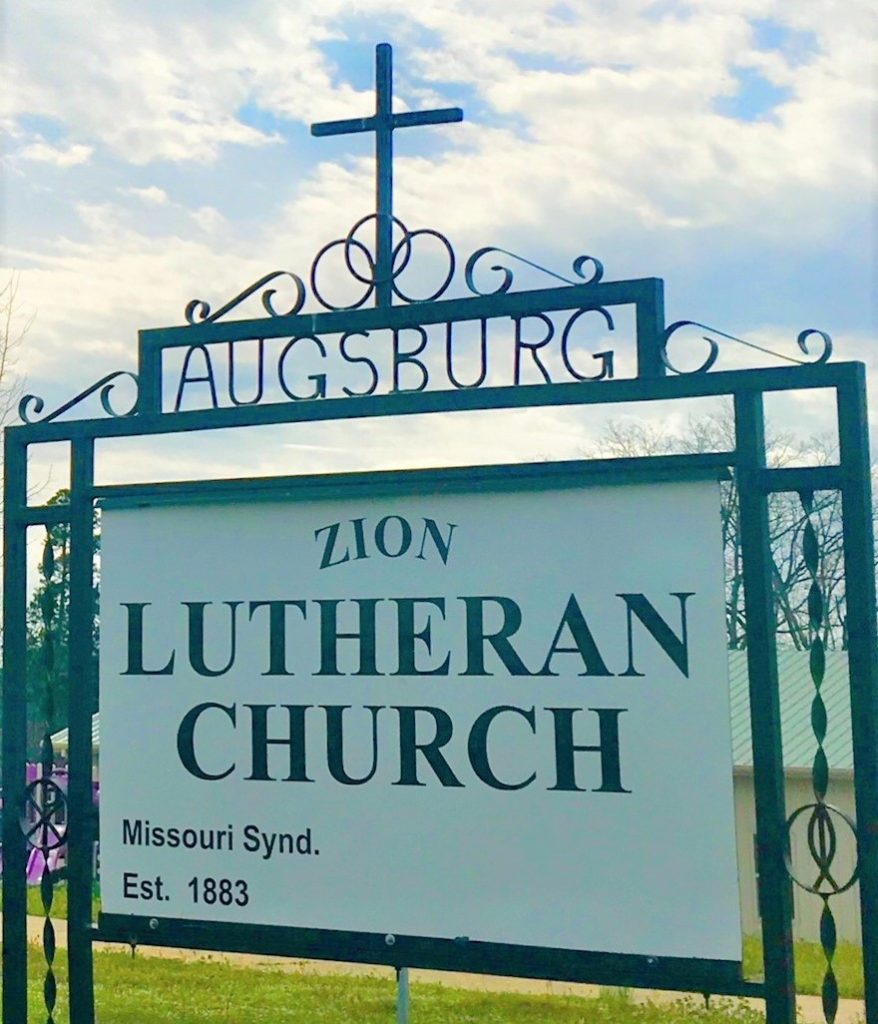 How can a small rural congregation support such a large effort?
It isn't easy, but nothing worthwhile ever is easy.  We can accomplish it only with God's help and with the help of other Christians.  As more and more people hear about the large outreach ministry of our little church on the mountain, they have stepped up to help.  Individuals from other congregations, including non-Lutheran congregations, provide monetary support.  We were pleased and encouraged when Mount Carmel Presbyterian Church, a small congregation just south of Augsburg, regularly donates to our Food Pantry.  St. John's Lutheran Church, in Russellville, is also a regular supporter.  We are grateful that fellow Christians from other denominations want to help.
We have also been the recipient of corporate and local business support. Tyson, Conagra and Walmart have contributed with Grants and food donations.  Augsburg Food Pantry exists and serves the community only with the support of many others also. The following are just some of the organizations that have given various grants to the pantry : Thrivent, Pope County Community Foundation, AR Community Foundation and AR Hunger Relief. The grants have given us the ability to stay open and improve our facility.
And, when other Food Pantries are given more food than they can distribute, they share with us.  We do the same with them.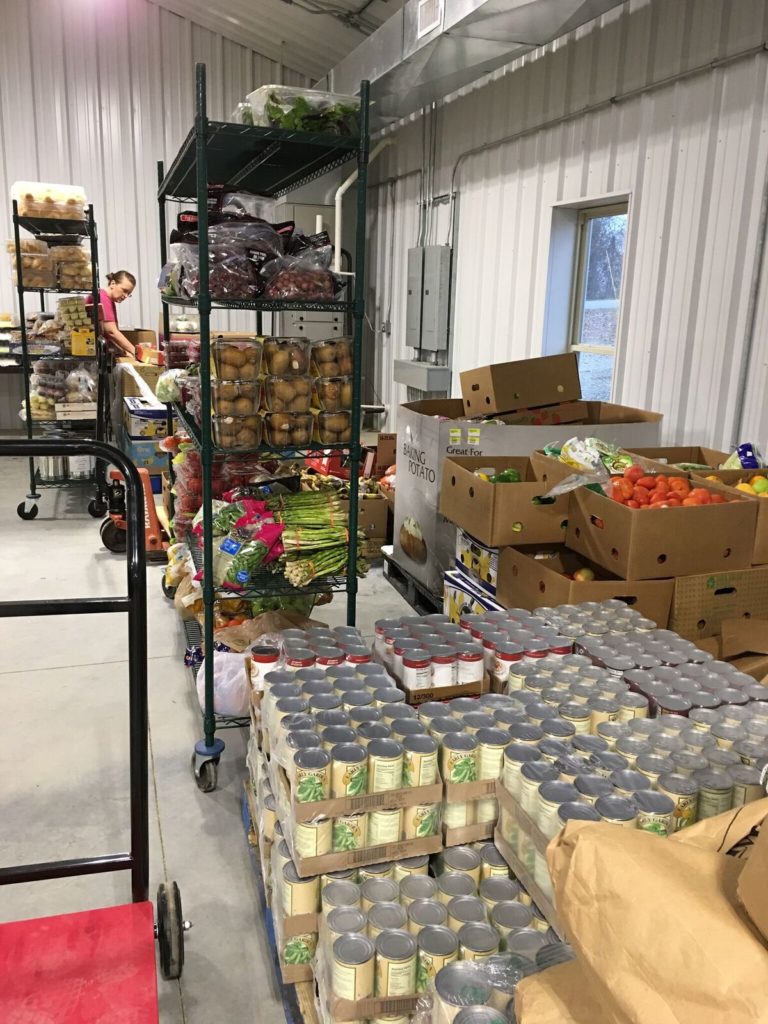 ---
HISTORY OF THE PANTRY
Augsburg Food Pantry by Dr. Earl Schrock
Jesus knew the importance of providing physical as well as spiritual sustenance.  He instructed His disciples to feed the multitude who had gathered at the Sea of Galilee to hear His message of salvation: "I have compassion for these people; they have already been with me three days and have nothing to eat. I do not want to send them away hungry, or they may collapse on the way" (Matt. 15:32).
We are told in Acts 6:1-4 that feeding those in need was an important part of the ministry of the early church:
In those days when the number of disciples was increasing, the Grecian Jews among them complained against the Hebraic Jews because their widows were being overlooked in the daily distribution of food.  So the Twelve gathered all the disciples together and said, "It would not be right for us to neglect the ministry of the word of God in order to wait on tables.  Brothers, choose seven men from among you who are known to be full of the Spirit and wisdom.  We will turn the responsibility over to them and will give our attention to prayer and the ministry of the word.
In 1995, with this instruction in mind, the Lutheran Women's Missionary League at Zion Lutheran Church began to gather food items and distribute them to the people in need in the area that the church serves.  From this modest beginning, the Augsburg Food Pantry has increased a hundred fold, largely due to the efforts of a reinvigorated LWML.  These younger women learned from the older ones what had worked in the past, but they also brought new ideas to the feeding program.
In 1995, the ladies fed approximately 10 families a month. Now in Jan 2021, we serve on average 200 to 250 families a month, over 700 people.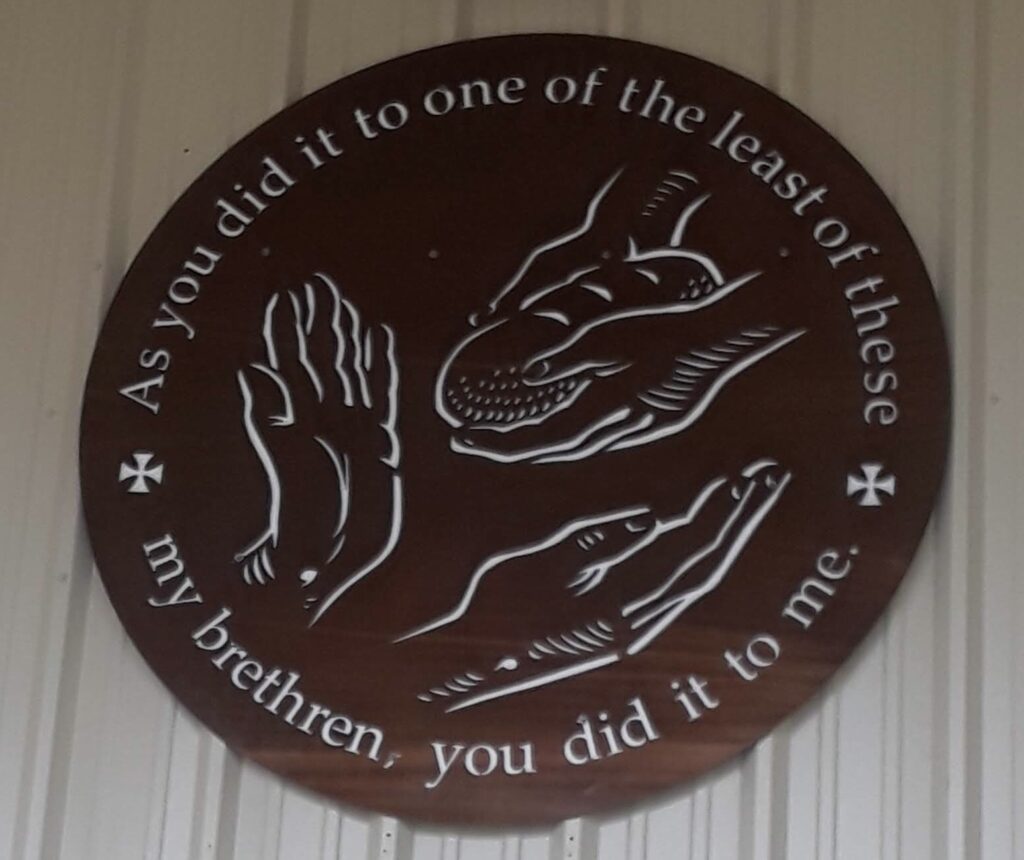 ---
---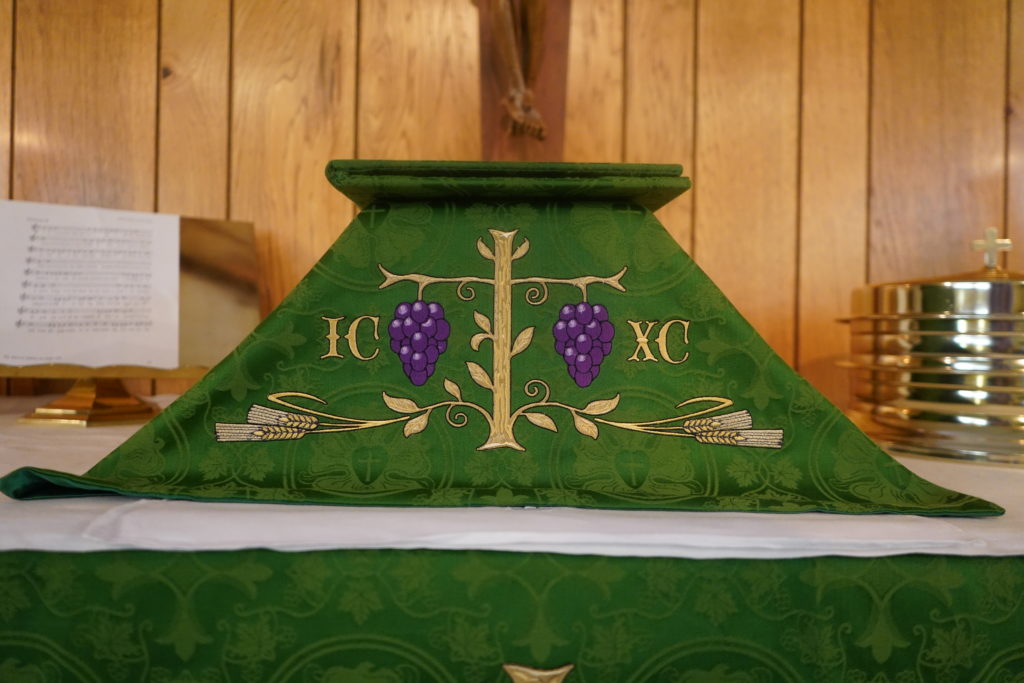 ---
Who receives gifts of food?
Senior citizens on fixed incomes, often having to decide whether to buy food or the medicine that they need.  Single mothers who are struggling to work and provide food for their children.  Disabled people who are unable to work.  Young families who simply can't make ends meet on their minimum-wage jobs.  And those who are out of work or are between jobs.  In short, anyone who asks.
The guiding principle of the food bank is this: if someone who genuinely needs food asks us for help and we don't provide it, we have done a wrong and will have to answer for it, but if someone who doesn't need food asks us for help and we do provide it, they have done a wrong and will have to answer for it.  We believe that this agrees with the teachings of Jesus.
With this guiding principle, will people take advantage of our food ministry?  Some will, but we don't worry about that.  One visit to our Food Pantry on food distribution day (the third Saturday of every month) will find people lined up an hour and a half before the doors open.  A quick glance at the crowd will convince you that these are people who are genuinely in need.  Then listening to their stories and hearing their words of gratitude for the help we are providing will bring tears to your eyes.  We can only say, "There, but for the Grace of God, go I!"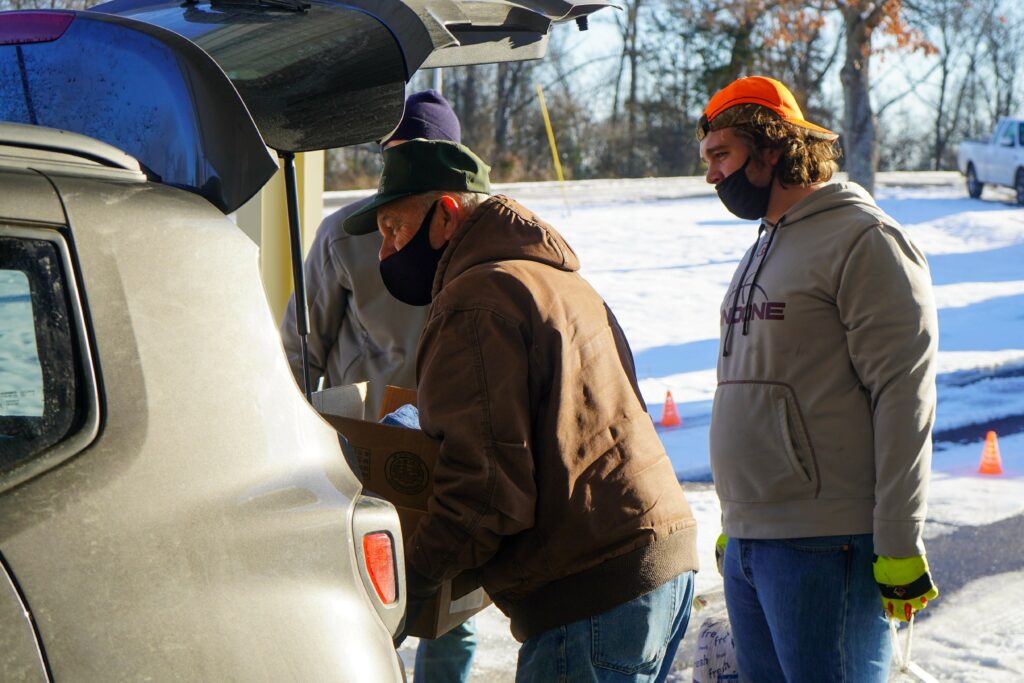 Does the Food Pantry require a tremendous amount of work?
The answer is a resounding YES!  Most of the food is purchased at the Arkansas Food Bank in Little Rock, transported to our church, divided out into containers for families of different sizes, and distributed to those who need it.  Currently, due to a grant being received by the Arkansas Food Bank, we are blessed to have our food orders delivered directly to us.  Previously, LWML members and members of their family had to drive to Little Rock, load a large trailer, bring it back to the church, and unload the pallets of food.  This was a tremendous sacrifice because, over and above the expense of the trip, it required taking off a day's work to accomplish the task.
How can you help?
First, and most important, you can pray for our mission effort.  Second, you can volunteer to help us sort and distribute food.  Third, you can provide a monetary gift (make check payable to Lutheran Women's Missionary League—Zion Lutheran Church, 93 Augsburg Road, London, AR 72847 and note on the memo line Augsburg Food Pantry).  Cash donations are very greatly appreciated, due to the fact that we can make food purchases from AR Food Bank at much reduced cost.
You will be blessed for your help.  The words of Matthew assure us of this:
Then the righteous will answer him, "Lord, when did we see you hungry and feed you, or thirsty and give you something to drink?  When did we see you a stranger and invite you in, or needing clothes and clothe you?  When did we see you sick or in prison and go to visit you?  The King will reply? "I tell you the truth, whatever you did for one of the least of these brothers of mine, you did for me" (Matt. 25:37-40).